From Kirkus Reviews (July 1998):
"How do angels celebrate Christmas Eve? Using a spare rhyming text, Stone (When the Wind Bears Go Dancing, 1997) offers a glimpse of the feasting, dancing, and singing of the heavenly host as they gather with animals and children to share the joy of the season. Vibrant spreads offer a feast of folk-art illustrations steeped in gorgeous shades of red, green, and blue. Enchanting images -- stitching the world a quilt of snow, trimming the tree with clouds, mist, and moon -- emphasize the celestial qualities of this magical holiday picture book. Stone weaves a generous spell; it will be hard for children not to smile along with the final, glorious spreads."

See a preview
of this book.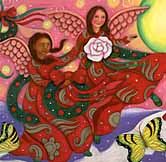 What Night do the Angels Wander?