This is Phoebe's artwork as it appeared on the cover of Booklist February 1, 1998: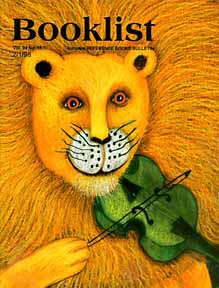 The following review appeared in the Jan. 1, 1998 issue of Booklist:
"What is that rumbly noise that the wind makes? A little girl's mother tells her that it's the Wind Bears dancing by. And though she is warned to stay home, the girl, in a flight of fancy, cavorts with five woolly white bears in the midnight sky. The poetic text is full of words like rumble, tumble, spin and whirl; the feeling of motion is the story's central image, even as tigers play with tambourines and the rain sings along. Catching the mood is the arresting colored-chalk artwork executed primarily in nighttime shades of blues and purples. The five fuzzy bears frolicking in the night with one happy little girl are shown in sweeping panoramas, yet with plenty of detail to satisfy those who want to look and look again. A warm, comforting book to read when a mighty wind is blowing outside." --Irene Cooper for Booklist
Take a look at the pages of When the Wind Bears Go Dancing to see where the lion came from.
"Phoebe Stone's creatures command attention because of their gentle humanity."
--The Boston Herald
"Painter Phoebe Stone and her whimsical art are finding a growing audience with "When the Wind Bears Go Dancing."--The Boston Globe
"Stone's verse and lush pastel illustrations convert a scary thunderstorm into a dance party of wind bears, lions, tigers and other creatures…It's a grand hullabaloo."
--Kirkus
"Phoebe Stone chooses her words with great care picking the perfect ones for a child's tale told in verse.
…beautiful and beautifully written."
--The Burlington Free Press
School Library Journal:
"A comforting bedtime story that explains a stormy night to an anxious child. The little girl's mother tells her it's the wind bears dancing, and the child imagines what it would be like to be with them, stepping out on rooftops; rustling; and encountering friendly fish, lions, and tigers. The bled double-page spreads capture all of the nocturnal activities with a flair, from the opening picture of soft white clouds turning into bears until the last page, where they once again become clouds. The illustrations blend nicely with the rhyming text in presenting a delightful story of a sleepy child's adventures." --From School Library Journal, January 1998
"Step into Phoebe Stone's world and enter a fairy tale."
--The Rutland Herald
Read the rest of the article
"When the Wind Bears Go Dancing is a well-written, beautifully illustrated bedtime book, another triumph for this outstanding artist."
--The Valley News