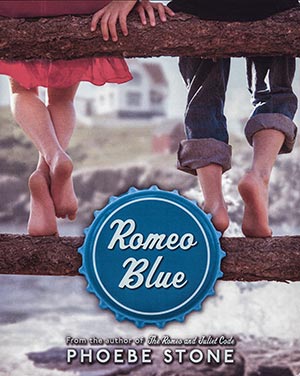 Romeo Blue
by Phoebe Stone
Publisher: Scholastic/Levine,
Hardcover (350 pages) $16.99
Publication Date: June 1, 2013
ISBN 978-0-545-44360-9
Praise for Romeo Blue
A NEW novel by Phoebe Stone — Published June 2013

Starred Review Hornbook
August 21, 2013:
Romeo Blue is the best sort of sequel: one you didn't know you wanted but are ever so grateful to have. Its predecessor, The Romeo and Juliet Code (rev. 3/11), ended with British ex-pat Flissy content in sleepy Bottlebay, Maine, with the Bathburns — matriarch The Gram; flighty and sweet Aunt Miami; hunky young Derek; and Uncle Gideon, whom she learned is her father. It's now 1942, the Coast Guard is patrolling for U-boats, and there's still no word from Winnie (her mother) or Danny (the man she thought was her dad), who are Allied spies stationed in France. Life goes on for Flissy and co., even in the midst of such uncertainty. Her love for Derek unabated, Flissy is stung when he takes someone else to a dance. A welcome visitor is her young friend Dimples, an evacuee from England whose guilelessness is a breath of fresh air for the secret-harboring Bathburns. Another surprise arrival (no spoilers here, but it's a good one!) upends Flissy's expectations in ways that are breathtakingly complex. Stone manages the cunning feat of writing in a style both lyrical and propulsive, with short chapters impelling readers ever onward as the multifaceted story unfolds. The end of the book brings some closure, although, just as with The Romeo and Juliet Code, not everything wraps up tidily. Some characters remain absent, and some are irrevocably changed, a reminder of the devastation wrought by war.—Elissa Gershowitz

Starred Review Booklist
May 1, 2013:
This absorbing follow-up to the The Romeo and Juliet Code (2011) picks up with the Bathburns in Bottlebay, Maine, one year later and with WWII in full swing. Flissy hasn't heard a word from her parents, who are spies missing in Europe, but keeps herself occupied with her love interest, Derek, the boy the Bathburns unofficially adopted. When a man shows up claiming to be Derek's long-lost father, Flissy struggles to keep her suspicions about him to herself. Soon, Mr. Henley, the local postman and poet, is called for duty in North Africa; Aunt Miami joins a USO traveling production of Romeo and Juliet; and Gideon, Flissy's biological father, undertakes a secret mission. Intrigue and mysteries abound: Who is "The Moth Man"? What is Gideon doing in France? Will everyone come home alive? Our 13-year-old narrator captures the effect of the upheaval on her life and her family as she transitions, perhaps prematurely owing to her circumstances, from child to adult.
Stone's evocative writing sets time and place beautifully, with descriptions of blackout curtains and the war effort—not to mention the stormy coast of Maine—and her passages about war feel relevant today ("Here in such a lush and green world, why do people hurt and kill one another and why is there such a thing as war?") Compelling, and with plenty of heart and soul. —Ann Kelley